Right to Repair legislation for consumer devices has arrived in Europe, and it is here to stay. Newly affected businesses are grappling with the commercial impact of these changes and looking ahead to which products these laws could apply to next. At Tone Product Design we are looking carefully at what companies can do to prepare for future right to repair laws, and how embracing design for repair best practices could benefit your business long term.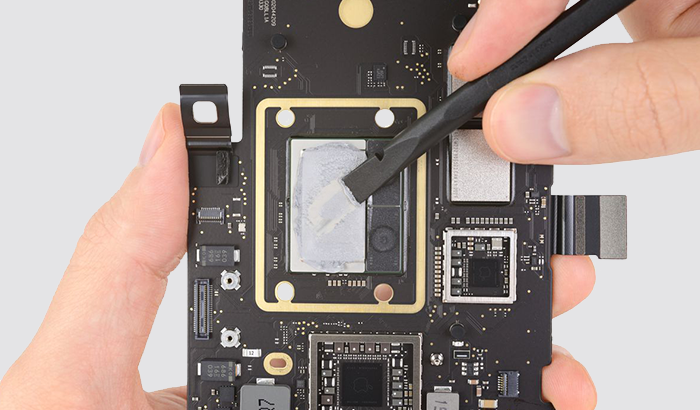 Credit: iFixit
The right to repair movement
It seems a reasonable expectation that consumers should have the right to repair products they have purchased. But it has become increasingly difficult, if not impossible, to repair most of the electronic devices we own.
Built-in obsolescence, or planned obsolescence, is the controversial and highly publicised business practice of using deliberate strategies to reduce a product's lifespan and encourage consumers to replace products more frequently. Proprietary screws, too much glue, parts that are hard to find, parts that cost more than a new device, and even legal barriers discourage you, the consumer and independent businesses from repairing products.
More and more consumers understand these strategies, and many now expect lawmakers to start restricting this behaviour. The 'right to repair' movement aims to fix our relationship with electronic device consumption and make certain products more easily repairable and durable.
E-waste
Europe also faces an important environmental challenge to reduce the amount of e-waste we are all producing. The Global E-waste Monitor 2020 reported that in 2019, Europeans were the largest producers of electronic waste in the world, disposing of 16.2 kg per capita each year. It also reported that e-waste is the fastest growing waste stream in the world. Socially and environmentally conscious consumers are now thinking carefully about how each product they purchase impacts the environment and are more mindful of the waste they are generating.
Right to repair legislation
Before its departure from the EU, the UK agreed that by summer 2021 white goods manufacturers will be legally required to produce (and make available for purchase) spare parts and instructional materials.
The new law is expected to extend the lifespan of products by up to 10 years. Key spare parts should be easy to disassemble and components should be replaced using commonly available tools, without causing permanent damage to the appliance. This will initially apply to lighting, displays, washing machines, dishwashers, and fridges.
The European Union has already committed to moving ahead with the Right to Repair for smartphones and 'IT products' next year, and the BBC has reported that the UK government has pledged to "match and even exceed EU eco product regulations" post-Brexit. But the government has not made it clear how the UK will benefit from the new measures.
How to design for repair
Even though the current legislative scope is quite limited, brands in other sectors will benefit from looking ahead to a circular model of 'designing for repair'. OEMs (original equipment manufacturers) will need to improve the robustness of all aspects of a device. Making these conscious design decisions on mechanical parts early on in the design process will streamline development and avoid fundamental redesigns.
Design for disassembly and reassembly may result in snap fits and adhesive gaskets becoming less common, and result in a shift to mechanical fasteners. Currently, many consumer electronic devices are welded or glued to achieve a IP66 or IP67 rating in a cost-effective way, but manufacturers will need to provide better access to the internal components within the device.
France has already introduced a mandatory repairability and durability scoring system, which will give rigorously designed and durable products higher ratings than their competitors. This will hopefully reward companies that are committed to designing their products with longer lifespans and have a focus on repairability.
For high value products, a service-orientated approach and preventive maintenance could also become a larger and more important capability that can enhance a brand's reputation. The 360° photography studio we designed for ORDRE focussed on a modular and easy to repair architecture that allows for components to be swapped out at a moment's notice. Enhancing the service life of the product and future proofing product upgrades.
As always, we will be monitoring developments in legislation and providing guidance.  We have put together a handy cheat sheet of design principles to keep in mind while designing for repair, which you can download below. If you would like to find out more about how right to repair might affect your next project, please get in touch.
Image credit: iFixit
Download our right to repair design principles cheat sheet
---
Read more of our news
Our pick of the best new product design software reaching maturity
Over the last decade there have been some very exciting developments in the software available for product design professionals, which are now reaching maturity. Here we highlight 4 apps that are changing the way product designers work and collaborate.
Read more