The harmful consequences of climate change on people's health and the environment are being acknowledged by the healthcare sector as a matter of great concern, and this has triggered many health-care systems across the world to take meaningful action, including a sustained drive to reduce healthcare waste and move them closer to net zero.
In 2008, NHS England identified equipment (medical and non-medical) as one of the key contributors to the carbon footprint of the UK healthcare system. But in a highly regulated sector, with strict safety standards, it's complex and costly to reuse, recycle and dispose of medical devices. The main driver is the continuous improvement in patient safety and reducing the overall risks of healthcare-associated infection. So, understandably, environmental concern is usually secondary.
It is, however, encouraging to see that institutions in the UK, such as The Royal College of Physicians, have recommended procurement of environmentally considerate products that maintain quality, safety and usability. They warn against selecting the cheapest short-term option, but instead recommend identifying and considering the 'whole lifecycle costs and environmental impacts' of a purchase, advising that the NHS should 'leverage its aggregated purchasing power' to positively influence the industry.
So, what can the medical device sector do to move its portfolio of products to balance safety and sustainability and still offer measurable benefits?
The single-use dilemma
As medical devices have become more sophisticated, they have also become increasingly difficult to reprocess and reuse. Detailed, multistep instructions and protocols to clean and then sterilise or disinfect often make it more cost efficient and logistically easier to simply discard the device. This has resulted in more single-use devices being introduced into the market.
Although vital to protecting patient and healthcare worker safety (and not forgetting cost efficiency and timesaving benefits), this results in a high percentage of medical device waste consisting of single-use products or components.
The COVID-19 pandemic also demonstrated the vulnerabilities in the medical product supply chain, and that a reliance on disposable personal protective equipment (PPE) and a wide range of other essential products can leave healthcare workers with shortages in the supplies they need.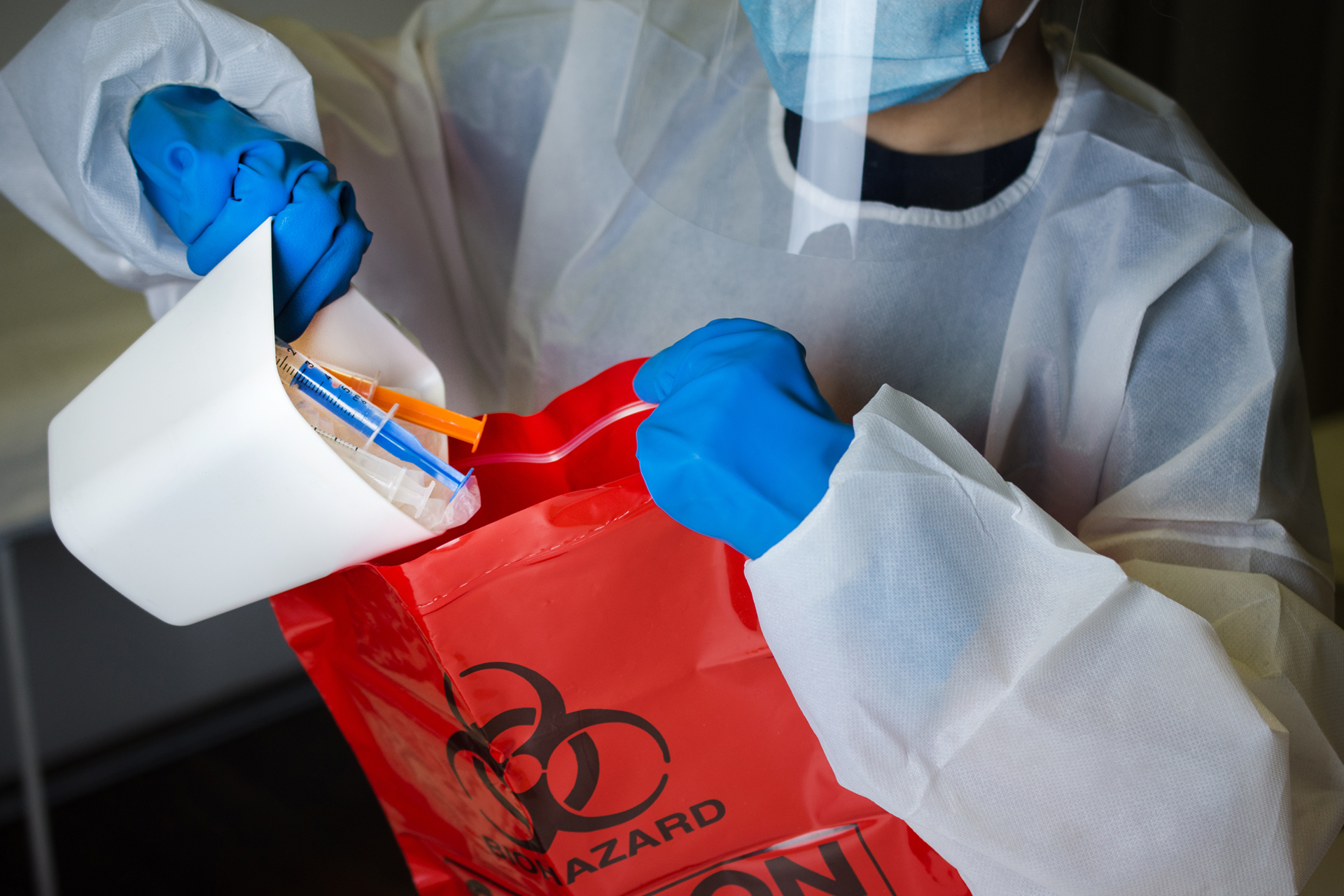 Barriers to recycling
Smaller and more portable electronic and electro-mechanical devices have certainly improved usability, safety and efficacy. The improved usability can often be attributed to the elimination of operating steps, which reduces user error and device misuse while still maintaining safety standards. But this poses new obstacles to the recycling potential of these devices.
For a device designated as single-use or single-patient use, this trend towards device complexity often results in difficulty separating materials for recycling. Disposable medical devices that come in contact with biological components are also classified as potentially infectious waste and have to be incinerated or disinfected prior to disposal in a landfill site, making recycling impossible.
Designing for disposal
Hybrid design, where reusable components are coupled with disposable elements, provides the ability to reuse parts of the device – this is especially useful when considering devices where the largest component doesn't come in contact with biological mechanisms and is reusable without the need for disinfection.
Because classic waste management strategies may not always provide the answer, product designers need to be especially mindful when it comes to the reducing, reusing, processing, remanufacture, recycling, recovery and disposal of materials. However, the correct design strategy is somewhat dependent on the product's value.
Such strategies might include designing for separation, waste management and recycling. Or designing for reuse and durability. But all these considerations need to be weighed up against the level of risk to the patient and the healthcare professional.
Lifecycle thinking
Designers can use established tools, including lifecycle analysis (LCA) of existing products to review their current environmental impact and target high-impact changes. By looking at materials, manufacturing techniques, packaging, distribution, use and disposal in a holistic fashion enables incremental gains to be made, which can significantly change a device's eco credentials. The LCA route enables us to get a clear understanding of the product's lifelong impact and compare the environmental impact, considering factors like material selection.
There are companies making great headway. Take  YpsoMed, which created the world's first zero-carbon emission autoinjector. YpsoMed looks at the environmental, social and economic impact of its whole value chain – and it's by looking at every step, every seemingly minor detail that, when added up, the greatest impact is made.
Designing for reprocessing
Where appropriate, devices can be designed for repurposing and refurbishment. For most medical devices, human factors engineering is a mandatory part of the approvals process, but it's often overlooked when it comes to reprocessing, when it should be at the forefront of the design process. Sustainable development means meeting the human needs of current and future generations.
As an industry, we're still largely in a 'take, make, waste' linear system. By considering the whole picture, from concept through to end of life, including supply chain and transport, we can start to make significant inroads. Of course, humans are inclined to take the path of least resistance, but by understanding the science of the materials, and aligning with suppliers and partners that prioritise sustainability, including ethical sourcing and a willingness to innovate and collaborate, medical device manufacturers can make the crucial difference by forming product design partnerships to overcome regulatory, production, sourcing, and material challenges to meet this need.
Improving sustainability is a big, urgent and complex task. But circular thinking is rising up the agenda and we can no longer afford to kick the can down the road.
If you have a research project that needs to be translated into physical prototypes or a commercial product, reach out and chat with one of our team. We'd be happy to discuss your goals and suggest ways in which you can get there.
Want to know more?
Tone is a London based creative product design agency. If you'd like to talk to us about what we do or tell us about a new project, send us an email at:
We'd love to hear from you.
---
Read more of our news
Tone wins European Product Design Awards 2022
Tone picks up the top design prize for two winning entries in this year's European Product Design Awards.
Read more